Sunday, January 11, 2009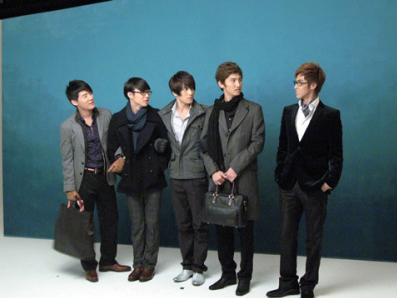 Dejavu~



Credits: DBSKnights + DNBN
Remember how there was news before that TOP, Kim Hyun Joong and Jaejoong [+Yoochun] were friends?
Kim Hyun Joong Discloses The Hidden Side of TOP and Jaejoong?
Kim Hyun Joong from SS501 will be revealing his best friends, Big Bang's TOP and TVXQ's Jaejoong's hidden sides.
Kim Hyun Joong recently have talked about 'TOP and Jaejoong's indivdual styles are very obvious' during the filming of 'Sang-Sang PLUS-Season 2'
He said that 'When it comes to the style of answering the phone, both of them are very different', he then imitated TOP and Jaejoong's voices on the spot, everyone burst out laughing as it sounded in facsimile.
TOP who sounded as if he is rapping when he is answering the phone and Jaejoong who used a unique voice to answer the phone.
All their hidden sides will be revealed through Kim Hyun Joong's description.

Source: newsen + BBbaidu + fangirlmitz
Trans:
ica89
Shared by: DBSKnights

I have this Photos ages ago but the last one just emerge today i was waiting for all the members photos to come before i post it~ ahh nothing is happening in the dongbang world i think they're all Sleeping~ joke~ that's all folks~

















Credits:
DBSKnights + Yuchyonijeum@DNBN
Jaejoong Vs Kim HyunJoong


JJ!! I love Heavens Postman~~(Drama Wise)Hot Smexy Dorky JJ Ahh~~

[NEWS] 090110 DBSK - Junsu's Fans Donations for his Birthday
From me~
Pops in Seoul
Top 5 guys who look good in suits
Guess who is number 1? xD
That's right!
U-know
~ ♥
xLongN9nDy2
Shared By: DBSKnights + Fangirlmitz